DEDICATED SERVER
Fastest servers at the
lowest price.
Starting from
$208.98
/ month *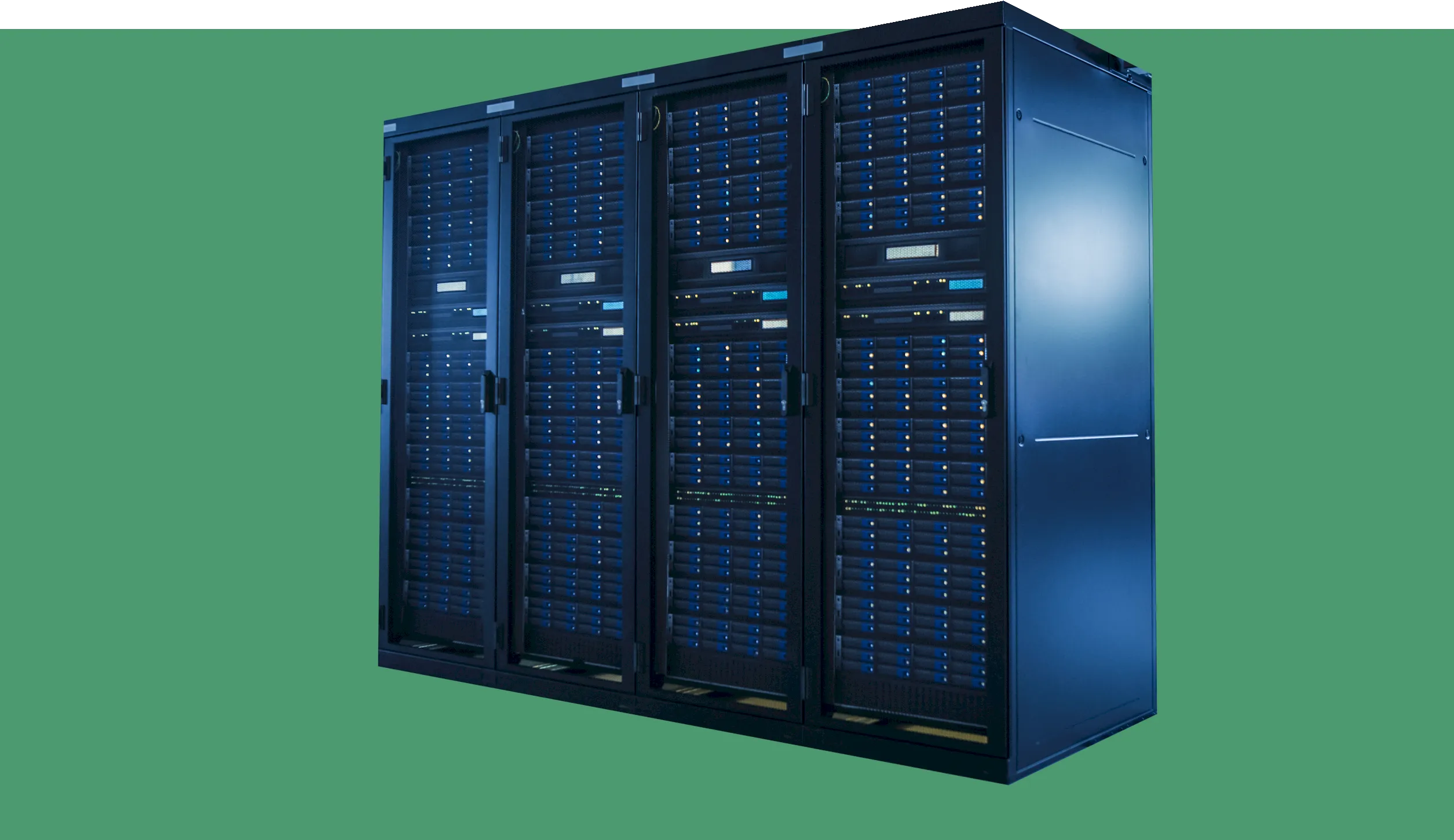 Choose the right Dedicated Server plan. For you.
Economy
$139.99 / mo.
Intel Xeon-D 2123IT
4-Core/8-Thread – 3.0 GHz Turbo
32 GB DDR4 RAM
2 x 4 TB HDD Storage (RAID-1)
Value
$177.99 / mo.
Intel Xeon-E 2136
6C/12T – 4.5 GHz Turbo
64 GB DDR4 RAM
2 x 4 TB HDD Storage (RAID-1)
Deluxe
$291.99 / mo.
AMD EPYC 7351P
16C/32T – 2.9 GHz Turbo
128 GB DDR4 RAM
2 x 8 TB HDD Storage (RAID-1)
Ultimate
$411.99 / mo.
AMD EPYC 7351P
16C/32T – 2.9 GHz Turbo
256 GB DDR4 RAM
2 x 8 TB HDD Storage (RAID-1)
Economy
$147.99 / mo.
Intel Xeon-D 2123IT
4-Core/8-Thread – 3.0 GHz Turbo
32 GB DDR4 RAM
2 x 500 GB SSD Storage (RAID-1
Value
$189.99 / mo.
Intel Xeon-E 2136
6C/12T – 4.5 GHz Turbo
64 GB DDR4 RAM
2 x 500 GB SSD Storage (RAID-1)
Deluxe
$312.99 / mo.
AMD EPYC 7351P
16C/32T – 2.9 GHz Turbo
128 GB DDR4 RAM
2 x 1 TB SSD Storage (RAID-1)
Ultimate
$420.99 / mo.
AMD EPYC 7351P
16C/32T – 2.9 GHz Turbo
256 GB DDR4 RAM
2 x 1 TB SSD Storage (RAID-1)
Self-managed

from $169.99

For experienced users who are comfortable maintaining their own server.

Fully managed

from $359.99

For those who would benefit from extra advice and professional server maintenance.

Performance / RAM

1 – 32 GB RAM
2 – 32 GB RAM

Operating Systems

CentOS 7, Ubuntu 16.04 LTS or Windows 2016
CentOS 7 or Windows 2016

Control Panel

cPanel/WHM, Plesk Obsidian Webhost Edition
cPanel/WHM, Plesk Obsidian Webhost Edition

Monitoring and alerts

5-minute intervals
1-minute intervals

CPU, RAM, disk & uptime

Services monitoring

Proactive remediation

Support

Standard Hosting phone support

Comprehensive help/how-to video library and technical blogs

Community peer-to-peer advice

Dedicated services team - (control panel recommended)

Paid Option
Unlimited service requests.

Content migration

Paid Option
5 free site migrations migrations.

Server setup

Paid Option

DNS setup and configuration

Paid Option

SSL installation

Paid Option

HTTP/2 server configuration

Paid Option

SQL Server Express install

Paid Option

Package management

Paid Option

Email client setup

Paid Option

PHP module install/upgrade

Paid Option

MySQL optimization

Paid Option

WordPress setup

Paid Option

Disk space audit

Paid Option

Firewall rules configuration

Paid Option

Call for custom service request

Paid Option
High-end performance
and control.
Experience the performance of our top-of-the-line server hardware: Intel XEON and AMD EPYC CPUs. Optionally use cPanel/WHM or Plesk Obsidian Web Host Edition to easily add unlimited accounts and websites to either CentOS, Ubuntu, or Windows servers.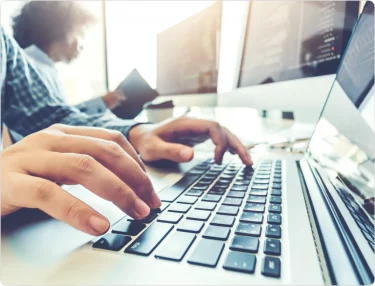 24/7 dedicated
server support.
Our standard support is available around the clock to help with hardware, network connectivity, and server questions. More advanced dedicated server tasks are available as a paid service. Need a service that isn't listed? Call us; we do that too.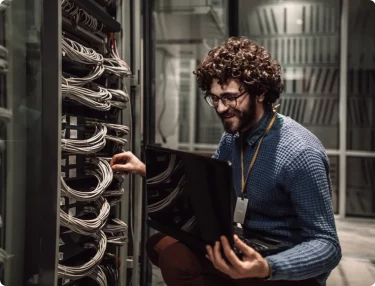 99.9% uptime
guaranteed.
Host your website on the largest hosting network in the world with 99.9% uptime guaranteed.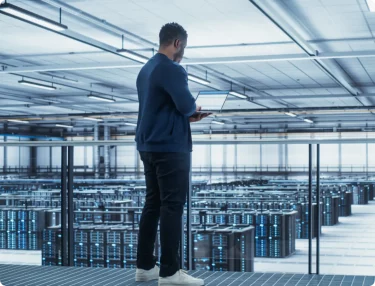 Choose SSD or HDD.
Choose solid-state drives for the fastest access times or hard disk drives for the largest amount of storage.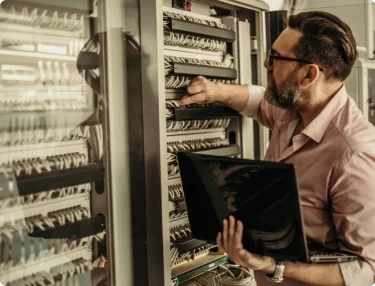 We're here to help.
Our support is the best in the industry. C-DR won't waste your time with endless email conversations or inferior offshore support. Call our US-based Guides anytime to help you with purchasing advice or technical support.
FAQ
What is a website host?
Since websites need to "exist" in cyberspace, the host is simply the server on which the website is stored. The host provider is the company you rent the storage space from.
What's the difference between Shared, VPS, and Dedicated Hosting?
Shared Hosting gives your website along with several others space on a server. Sometimes, high amounts of traffic on several websites can cause slowdowns because they are all using the same processing power.
VPS (Virtual Private Server) is similar to Shared Hosting, in that several websites share a server. However, each website gets a reserved amount of storage space and processing power that cannot be tapped into by other websites. It's like there's a fence around your resources that keeps your neighbors out.
A dedicated server is an entire server dedicated to one website or one entity's collective websites. Typically, these are high-traffic websites that cannot afford slowdowns.
How can I manage my dedicated server?
You'll be able to manage your dedicated server via the web with Web Host Manager (WHM). WHM lets you manage and set limits for multiple cPanel accounts so you'll have complete control over your server with endless possibilities for customization.
Why does the number of MySQL databases matter?
For most websites, it generally doesn't. But more databases means storing information for multiple websites, catalogs, clients, and customers. Additionally, you can use a copy of your website's live database to tweak and experiment on.
Can I upgrade my VPS hosting account to a dedicated server?
Yes. All of our plans are designed to grow with your website, so upgrading your account is no problem. If you have a Fully-Managed plan, we'll even set up your server and migrate the data for you.
What kind of support do I get once my site is up and running?
Our staff is on-site 24/7/365, ensuring that the servers are running at optimum performance.
I have a question that wasn't covered here. Where can I find an answer?
Just call us at (480) 624-2500 and we'll answer any questions you may have, 24/7
Dedicated Server hosting buyer's guide.
A dedicated server gives you the best in power, security, and customization. In this Buyer's Guide, you'll learn about dedicated servers, what other options are available, and how to choose a plan that's right for you.
What Is a Dedicated Server?
A dedicated server is just what it sounds like—an entire server dedicated to your needs.
Generally only for the most highly-trafficked websites, a dedicated server provides more speed and storage than any other hosting plan. Simply put, it's the most powerful type of hosting you can get from C-DR. But the tradeoff is that it comes at a premium.
Of course, dedicated servers aren't the only hosting option. There are alternatives that might better suit your needs.
Alternatives to Dedicated Servers
Shared Hosting
The cheapest way to purchase hosting, shared hosting lets you share a server with other websites.
While reputable hosting providers don't allow too many websites to exist on the same server, there is still a finite amount of resources to share, and sometimes bottlenecking (slowdown) does occur if too many websites use excessive resources all at once.
VPS Hosting
Virtual Private Servers (VPS) allocate a certain space on a server for your website(s). Similar to shared hosting, multiple websites exist on the same server. But the difference is that VPS hosting gives a dedicated portion of the server and its resources to each website. So, your portion of the server can never be infringed upon by other websites that are using too many resources.
The Bottom Line: When to Choose a Dedicated Server

If your website is growing fast, you're interested in increased security, and you want to dramatically decrease your loading times, a dedicated server may be right for you.
Choose the Right Dedicated Server Plan
While storage can be important, the fact is, all our plans will likely have more than enough storage for your needs, whatever they may be.
Additionally, each dedicated server plan comes with an SSL Certificate, which encrypts your visitors' data, keeping them safe. It's a badge of trust your website can wear proudly.
At the end of the day, you will likely want to choose your plan based on speed (RAM – Random Access Memory). Essentially, RAM is how fast your website can store and retrieve data, which translates to faster load times, even with heavy traffic.
For a more detailed guide on determining how much RAM you need, check out our Website Hosting 101 Guide.
Server Management
When you choose a hosting plan, you'll have the option of managing your server yourself, or having a managed or fully-managed plan.
Self-Managed
The default option for VPS, you manage your server the way you want it. Use SSH (Secure Shell) and the command line to tweak performance settings. Choose which updates to install and customize security settings to your liking. This plan is for the technically advanced user.
Managed
Your hosting provider takes care of the major upkeep for you. Patches, updates, and backups are automatically applied. An easy-to-use control panel lets you adjust important settings like DNS, email, security, and PHP versions to your liking. So, for example, if you need to upgrade PHP because a web application requires it, you can do so quickly and easily.
Fully-Managed
A step up from Managed Hosting, a Fully-Managed Hosting plan has our dedicated team of server admin experts take care of all the configurations for you, including technical aspects like DNS configuration, load problems, software upgrades, task automation, and more, all while being significantly cheaper than hiring your own personal server admin expert to be on call for you. You still have access to a control panel to tweak settings and upgrade security to your liking.
Security
If you don't have web security, it's not a matter of if your website will be attacked, it's when. You can install your own security if you know what you're doing, or you can choose a security plan to keep a watchful eye for you.
Essential
Protects your site from hackers and malware by performing automatic daily scans and using cleanup software to remove it.
Deluxe
The recommended option, a advanced WAFs (Web Application Firewalls) block malware before it reaches your site and stops DDoS attacks cold. Also, load time is boosted up to 70% with our CDN (Content Delivery Network), a network of servers that uses local servers that are physically closer to the user and origin of the webpage to boost speeds.
Get all the good deals!
Create an account to receive monthly discounts to your email. We do not sell your information.