CUSTOM DOMAIN EMAIL
Replace your generic email with Custom Domain Email.
Starting from
$1.99
/ month *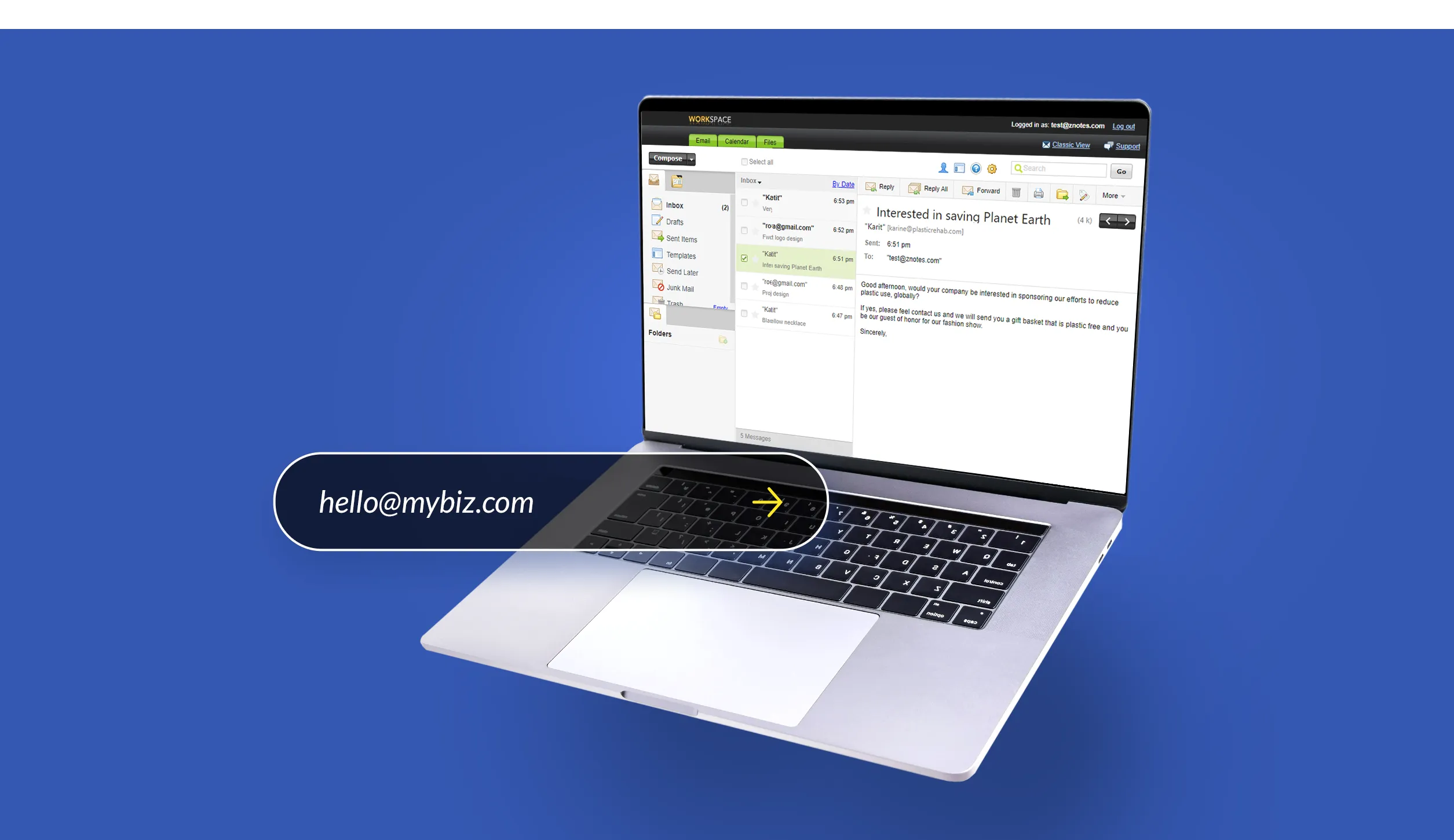 Use your own domain.
Use your business's domain for your email address to project a more professional image, show that you care about your customers' privacy, and secure an email address that will work regardless of which email provider you use in the future.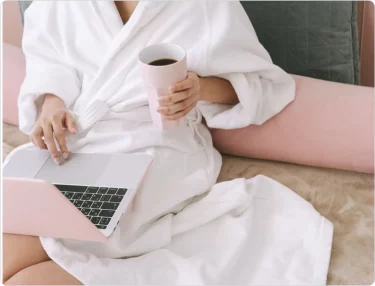 24/7 expert
phone support.
Our email hosting experts, who are available 24/7 via phone and email, will help you keep your email running flawlessly. That's something that can't be said for other email hosting providers.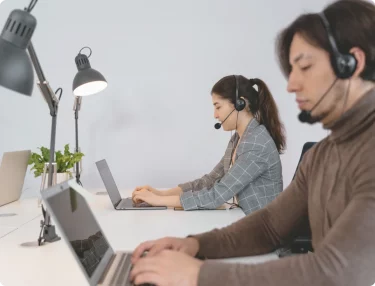 Choose your professional email plan.
If you want to create a new business email account based on your domain, then you probably already know how important it is for your business.
Individual
$1.99 / mo.
Custom domain email address
10 GB storage
Full-featured web interface for desktop and mobile
Individual calendar, address book, and tasks modules
Team
$2.99 / mo.
Custom domain email address
25 GB storage
Full-featured web interface for desktop and mobile
Shared calendar, address book, and tasks modules
Custom email features comparison.
Individual
$2.49
Team
$3.49


Storage / user

10 GB
25 GB

Calendar, address book, and tasks modules

Individual
Shared
Email that matches your
domain

24/7 phone support

POP3

IMAP

Mobile-friendly webmail

Additional email forwarding addresses

50
50
We're here to help.
Our support is the best in the industry. C-DR won't waste your time with endless email conversations or inferior offshore support. Call our US-based Guides anytime to help you with purchasing advice or technical support.
FAQ
What is an email domain?
An email domain is the part of an email address after the @ symbol — the gmail.com part of [email protected], for example.  Other examples of generic, or free, email domains are yahoo.com and outlook.com.
Most businesses, however, use custom domain email addresses that end with the domain of their website — [email protected], for example.
Isn't my current email address already "custom?"
While your current email address is unique, it's not "custom" unless it has your address after the @ symbol.
Why pay for email when Gmail is free?
The main reason is "Domain Reputation." Domain Reputation is simply the trust inherent in a custom email address. Since you're using an email with your domain address instead of a Gmail or Yahoo! account, people know you're not spamming them or trying to give them a virus.
Plus, support on a custom email address is much more friendly and comprehensive than a free email client, which requires you to look up the answers yourself if you have a question.
How much storage do I need for my emails?
1GB of storage is equal to about 1000MB. Generally, a text email takes up .1MB, while an email with pictures or video can take up to 10MB. These are important factors to take into consideration when choosing your plan.
What is POP3 and IMAP, and is there a difference?
POP3 and IMAP are both Protocols that retrieve your emails from the server.
POP3 downloads them, or "pops" them off of, the email server, and stores them on your email client. The emails are then deleted from the server, freeing up storage space.
IMAP syncs emails across all your devices. All your organizational decisions (such as putting emails in folders or deleting them) are reflected on the server, and thus across all your devices.
Why would I want more than one email address?
There are many reasons to have more than 1 email address on your custom domain. The first is that you may have several employees.
But even if you're a one-person show, you can give the illusion of having a bigger organization by having customers send their questions to [email protected], rather than [email protected].
Where can I learn more about custom emails?
Check out our Email 101 tutorial!  In addition, we've provided a few links on this page that will take you to information-packed articles regarding email. We encourage you to read them!
Custom Domain Email buyer's guide.
If you want to create a custom email account based on your domain, then you probably already know how important it is for your business. Your competitors all have custom email addresses, and you don't want to be the only one out there with an @gmail.com.
This comprehensive email buyer's guide will help you choose the right provider to go with, and the right plan to fit your needs.
What to Look for When Creating an Email Account
While free email services like Gmail and Yahoo! are nice because, well, they're free, having an email address like [email protected] screams "unprofessional."
And since so many names are already taken with free email hosts, you have to include numbers and symbols in your email, like [email protected]. Not exactly the easiest for your clients to remember.
Compare that to [email protected]. Much cleaner. With a custom domain email, every address you could want is available to you, so you can create a new email account with any name you can think of.
But before you do, here are some of the things you'll want to think about when considering a custom email address.
Ease of Maintenance
When you're first setting up your email, you're probably not thinking about what happens if you need to switch hosts. But as more and more companies like GoDaddy continue to raise renewal prices, you might find a cheaper hosting company that you want to switch to.
The good thing is that you can take your custom email address with you. Without it, you'd have to create a new one from scratch.
And if someone suddenly leaves your company, you can keep control of their emails on your address, and even forward them to your marketing manager, yourself, and any other relevant employees.
The fact is, a custom email eliminates a lot of potential headaches you could run into down the road.
How Many Email Addresses You Need
Most email hosts offer various plans that give you the option of choosing between a single email address or more.
Generally, you'll want to go with a plan that offers more than one, so you can give your employees custom email addresses, too. This keeps the branding consistent when clients are emailing multiple people in your company.
However, if you're a solo operation, like a blogger or someone who's just starting out, sticking to one custom email is a good idea. You can always upgrade plans as you grow.
How Much Storage You Need
When it comes to storage, there are 2 different kinds you need to think about.
The first is your email storage. And with some companies offering up to 50GB of storage, you have to ask: How many emails does that even hold?
Generally, a plain text email uses up about .1MB of storage, while an email with videos and pictures could take up to 10MB.
So, if you take our Business Email Plan as an example, which comes with 2GB of webmail storage, you're getting:
About 20,000 plain-text emails, or;
About 200 picture/video emails
About 20,000 plain-text emails, or;
About 200 picture/video emails
In reality, you're somewhere in between. But think about your business – what kind of emails do you receive?
If you're a bigger business, you'll need even more storage. The Email Ultimate Business plan comes with unlimited webmail storage, but it also comes with 100GB of separate online storage, as well, so you can move files and copies of important emails into a separate storage space.
And if you want to save some money by being more economical about your email storage space, you can choose a protocol that aligns with those interests.
POP3 vs. IMAP: Which to Use
If you're looking to save money by saving space, you'll want to use the POP3 protocol (featured in our Personal and Business Email plans), which retrieves the emails from the email server and downloads them onto the email client. Then, the emails are deleted from the server (unless you change the Settings).
This can also be useful if you travel a lot. Just "pop" the emails onto your computer and take care of them while traveling.
But if you're okay with spending the money, IMAP is the way to go. It syncs your emails across all your devices, so when you make a change on one, that change is reflected everywhere (again, unless you change the Settings).
Bottom line? Use POP3 on a budget, use IMAP for convenience.
(To learn more about email protocols, check out our Email 101 Guide.)
And if you're going to be managing emails across various devices, it's important that your web interface is intuitive and easy-to-use.
Must-Have Features
A good email interface has to give you the options of customizability while still offering security. Make sure yours checks the following boxes (bullet points?).
Easily and automatically sorts emails into various folders
Address book integration
Autoresponders (for when you're out of the office, for example)
Email forwarders
Signatures
Spam Filters
Virus Detection (You can get additional protection by getting an SSL Certificate. Learn more here.)
Calendar integration 
Rules and behaviors (to delete/reroute emails automatically)
Any company worth its salt will include these features free with its custom email service.
Customer Support
When it comes to any technological service, good customer support is crucial.
Does your custom email address come with free support? Is it chat only, or can you contact via phone? Or do you have to fish for your own answers on a message board?
At Cheap-DomainRegistration.com, we proudly offer 24/7, 365 US-based phone and chat support to all our customers. That's not something our competitors can say.
No matter what the problem and when you have it, we're always here to walk you through it.
Get all the good deals!
Create an account to receive monthly discounts to your email. We do not sell your information.