Types of Hosting
Not all websites need the same amount of resources. For example, a website with a million daily page views will need more resources, like memory, storage, and processing power, than a website with only a few hundred daily pageviews.
Generally, hosting plans differ from each other by the resources they offer, as well as how many total websites can be hosted.
Here are several types of hosting plans, and how they differ from one another.
Shared Hosting
Shared Hosting is the cheapest and often best option for entry-level website hosting, because you save cost by sharinge space on a server with other websites. You also share resources, So, if multiple websites sharing the same server start using a lot of resources at the same time, (usually due tof high traffic), sometimes they will experience slowdown. This is known as bottlenecking, and it happens because, there aren't enough resources to go around.
Additionally, less reputable hosting providers may cram too many websites onto one server to boost profits. This also results in bottlenecking.
Ultimately, shared hosting is a great option for a website that's just starting out, or those with little traffic (up to a couple hundred page views per day).
VPS Hosting
Virtual Private Server (VPS) Hosting is similar to Shared Hosting, because multiple websites share a server.
However, rather than all the websites using the same a pool of resources, each website is allocated a certain amount of server resources, which isn't affected by the other websites on the server. In short, even though you're sharing a server with other websites, your website will never experience slowdown because of them.
Additionally, because your "space" on the server is sectioned off, you can modify your OS and servers to enhance performance and security.
Another benefit to VPS hosting is that it allows you to host multiple websites on the same server. (How many depends on the plan.)
VPS Hosting is a good option for websites with moderate traffic (or even slightly more). They're also nice to have because if your website does experience slowdowns, you know it's because it's growing, and not because another website is using your resources. You can usually upgrade your VPS hosting plan to accommodate more traffic.
Dedicated Server
A a dedicated server is just what it sounds like: an entire server dedicated to your needs.
They are best for high-traffic websites with high demands for speed and storage.
Not only can they support a single website with high traffic, but even multiple websites with moderate-to-high traffic. It's a great option for those who need reliable resources for their website.
An additional benefit to having a dedicated server all to yourself is the added security. Since some types of malware affect the server, if one website on a shared hosting plan is infected, it puts all websites at risk. But a dedicated server means you need only worry about your own site(s).
Cloud Hosting
Still a relatively new form of hosting, you can think of cloud hosting like a utility. It combines the power of many servers into a giant pool of resources. Websites then draw from these resources as they need them making them very scalable as the website grows. As the website uses more resources, the owner pays accordingly.
Because website owners pay for the resources they use, cloud hosting automatically grows with the website. This simplicity in scaling is what draws many people to it.
However, cloud hosting is not without its drawbacks. Like shared hosting, one infected website can mean disaster for the entire network. And because so many websites are hosted over this network, it's a bigger target for cyberattacks. Additionally, cloud hosting can be more expensive than shared hosting, VPS, and even dedicated server plans.
Generally, cloud hosting is for websites with high traffic that cannot afford bottlenecking hiccups and that absolutely need unlimited storage.
Colocation
If you own your own server(s), you can co-locate your equipment by renting space at a colocation center.
The center provides the resources your server needs, like power, bandwidth, IP addresses, and cooling systems, as well as physical space to store your server(s). Updating hardware, software, and maintaining the server(s) is entirely up to you.
WordPress Hosting
WordPress is one of the most popular CMS (Content Management Systems) out there. In fact, 35% of all websites are made with WordPress. With WordPress Hosting, you get access to the popular website builder as well as cPanel.
Once a hosting package has been chosen, you'll want to decide which operating system will connect you to it.
Operating Systems
An Operating System (OS) is the software that connects the user with the server's hardware. Without it, a server has no way of communicating with the outside world. The OS lets you toadjust your website's hosting settings without having to physically alter code or the configuration.
There are 2 major OSs for Website Hosting: Linux and Windows. Fortunately, you don't need to match your computer's operating system to your server's. In other words, you don't need to have a Linux-based home computer to use Linux for your website. (And vice-versa with Windows.) But, there are some key differences.
Linux (Unix)
Linux is the most popular OS, due to its reliability and security. It's open source (the source code can be freely modified and redistributed), which provides more customization for server capabilities and user options.
It can run PHP, a web application scripting language, and MySQL, a database system. These are both supported by WordPress, Zen Cart (an online store management system), and phpBB (an internet forum package), all popular supporting technologies for web applications that can give your website more functionality. So, if you're looking to use WordPress, be aware that it will run more easily on Linux. (Though WordPress can be used with Windows, too).
Linux generally uses either Apache or Nginx for web server software, which opens and sends files, executes scripts, and forwards requests to other servers. While Apache has been the standard for many years, Nginx is gaining in popularity due to being faster and using less memory than Apache. (However, Nginx is currently not supported by cPanel, the primary control panel for Linux, though it is coming soon.)
Technically, a Linux OS can use IIS (Windows' web server software) and its applications, but the hoops required to jump through would only be enjoyed by masochists who would not see many serious benefits.
Because Linux is open source and Windows is licensed, Linux-based hosting plans are generally more expensive.
Windows
Windows-based hosts, such as Windows Server 2016, typically use IIS (Internet Information Services), a type of web server. Although they can also use Apache, it is less popular simply because IIS is bundled with the Windows server package, as well as being designed specifically for it. While Apache is just as capable as IIS, IIS is easier to use for Windows out-of-the-box, so to speak.
IIS generally hosts ASP.NET web applications and static websites, which use C# programming language to increase functionality. IIS can also s host web applications on other platformsusing other technologies, like PHP.
However, though IIS is generally the default for Windows OS, there is a big reason one would choose to instead use Apache. That reason is WordPress. Though you technically can install WordPress on IIS, the security holes created by using a web server not designed for that specific web server are often not worth the headache. Apache offers just as much capability as IIS, with additional security.
Once an operating system has been chosen, web servers can be adjusted for increased performance and to maintain security. How much you want to be involved in that process is up to you.
Hosting Management
Web servers must be managed to keep security and software up-to-date. Additionally, certain settings can be tweaked to increase efficiency. There are 3 ways to manage your server.
Self-Managed
One of the biggest benefits is the ability to optimize your server the way you want it. Use Owners can use SSH (Secure Shell) and the command line to tweak performance settings. You can also choose which updates to install, as well as customize security settings and other configuration options. This can mean having a faster site.
Additionally, you choose your security for your website, so you can make it as minimal or secure as you want.
However, the drawback to a self-managed web server is that it requires some technical skills. But if you're willing to spend the time to learn, it's definitely worth it in the end.
Managed
Your hosting provider takes care of the details for you. Security patches, updates, and backups are automatically applied. You'll still have an easy-to-use control panel to adjust important settings to your liking.
Essentially, a managed server will be secure and regularly updated, requiring little-to-no work from you.
Fully-Managed
With a fully-managed hosting plan, the provider takes care of all the configuration for you, including DNS configuration, load problems, software upgrades, task automation, and more.
A team monitors traffic spikes to make sure your website can handle more traffic during peak times without crashing. Additionally, your files are constantly checked and backed up, so no data is lost.
Advanced security software checks for malware, spyware, and suspicious traffic, keeping your website safe from viruses. And though there's limited customization, you can request the host provider to install certain hardware or software, though it may take a bit of time for them to follow through.
A fully managed server is the most expensive option. Generally, you would only want it for highly-trafficked websites if you don't have the team or the know-how to keep your servers secure.
Luckily, control panels are a great way to manage your servers without needing the technical skills to log into the actual server. They can act as a sort of middleman for server management.
Control Panels
Control panels provide a user-friendly way of managing your hosting package (rather than logging directly into the server). With them, you can install applications, manage emails accounts, uploads files, and more.
The two main control panels are canel and Plesk, which are used by some of the most reputable hosting providers, including GoDaddy, HostGator, BlueHost and C-DR.
cPanel
Only available for Linux, cPanel pairs with WHM (Web Host Manager) to allow for easy management through an intuitive graphical interface with a customizable dashboard, as well as extensive information on how to use it.
Security-wise, cPanel allows you to blacklist or whitelist individual IPs, and even entire regions and countries. You can also encrypt all outbound messages and easily integrate third-party applications.
Overall, cPanel is simple to use and works with Linux-based servers, which most host the majority of websites on the internet. Plus, it's cheaper than Plesk.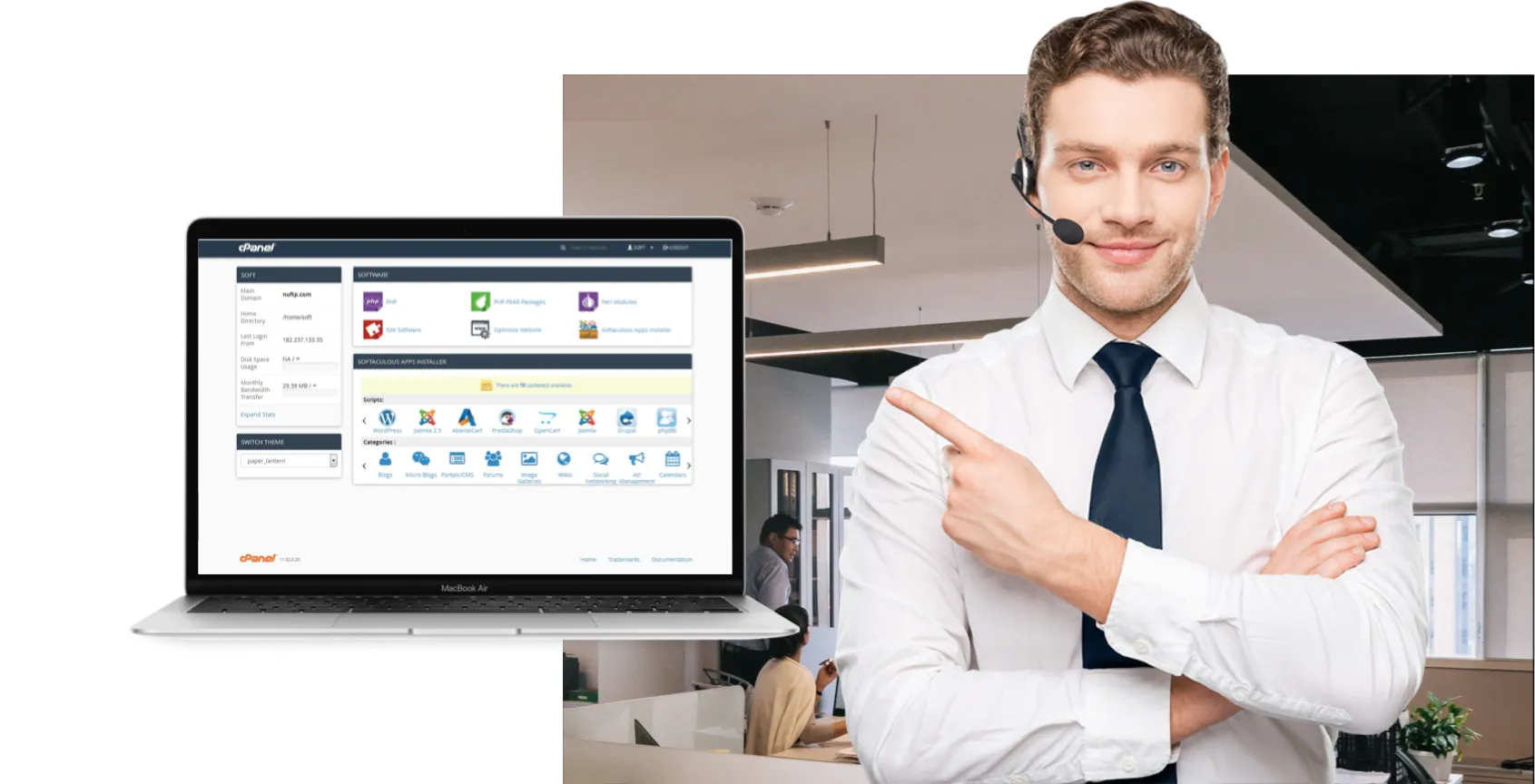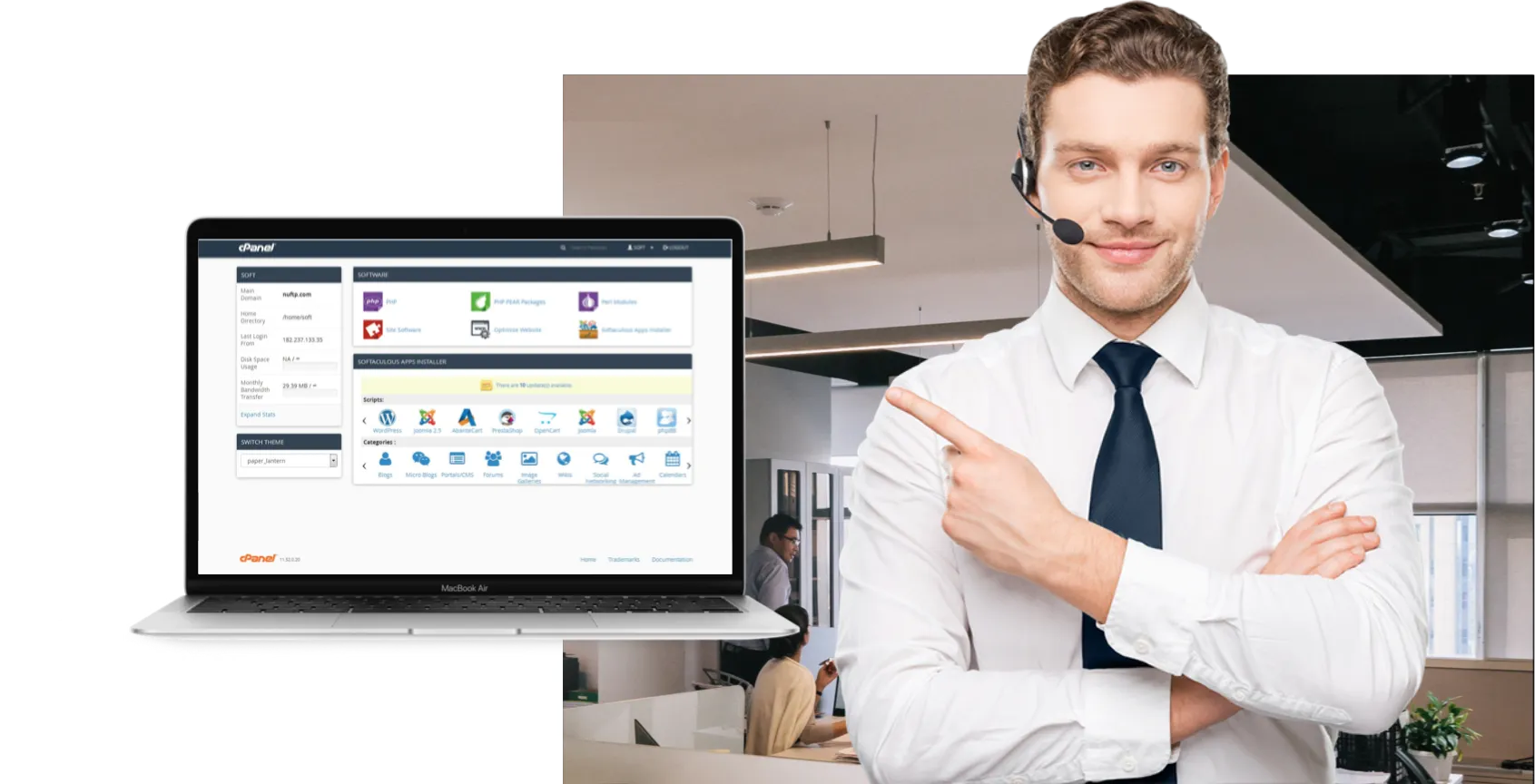 Plesk
Similar to cPanel, Plesk is a control panel that allows for easy server management. However, unlike cPanel, Plesk works with both Linux and Windows servers. Plesk is more logically organized than cPanel, and you can manage multiple servers from one control panel. However, Plesk is the more expensive of the two control panels.
Plesk offers security patches within 24 hours as well as Let's Encrypt and Symantec SSL for encryption.
Overall, Plesk is a little more intuitive for beginners, and works with both Linux and Windows, but it costs more.
What to Look for in a Hosting Provider
You probably already know this, but the number one thing you want to look for in a hosting provider is trustworthiness.
Easier said than done. So how do you know which ones are trustworthy?
Most hosting providers try to upsell you on the website hosting plans you need. So, people will often end up paying more for a hosting plan that's more elaborate than what their site requires.
The truth is, your website probably doesn't need as much as you think it does. Go to the next section to determine exactly what your website needs in a hosting plan.
Keys to a Great Hosting Provider
Scalability – A good host should offer multiple plans that grow with you as your website matures.
Support – Good, professional support is needed when it comes to building a website (especially if you're using WordPress). Phone support is the best, so they can walk you through the problem you're facing.
Security – Malware scans that search out threatening programs can save you and your customers from all sorts of trouble. Automated backups help in case something does go wrong.
Speed – In today's distraction-filled world, speed is key. If your web pages take more than 2 seconds to load, your visitors are going elsewhere.
Price – A good host will always be up-front with their pricing, and won't trick you into paying more down the road.
Determine the Resources You'll Need
Bandwidth Formula
Bandwidth Needed = Average Daily Visitors x Average Daily Pageviews x Average Page Size (in KB) x 31 (days in a month) x 1.3 (to allow for margin of error and growth)
Don't forget, this large number you came up with is in KB and needs to be converted to GB. So, divide it by 1,000,000, and that's generally how much bandwidth you'll need.
Storage
In general, you probably don't need as much storage as you think you do.
Web pages take up very little disk space (storage), and only large file sizes like videos will really make a dent in your storage capacity. You can find a simple chart here that will give you a good idea of how much storage you need.
Additionally, you should ration about 1GB for each database you use.
Memory
RAM is an important factor in load speeds for your site.  This formula can help you to calculate your RAM needs.
RAM Needed = Operating System + Control Panel + Other Applications + Traffic + Website